The UTMSU Annual General Meeting Notice
Join us at this year's Annual General Meeting (AGM) to meet the UTM Students' Union team! The meeting will be held on Monday, November 16 from 6 p.m. to 8 p.m., Online (via Zoom)!
This is a great space to learn about the work that your students' union did over the past year and to learn more about the campaigns, services, events, and finances of the organization. You will have an opportunity to ask questions and provide feedback to your UTMSU representatives.
Pre-registration is required! You must register with both your University of Toronto email and your UTORID to be granted access to this meeting. A link to the meeting will be provided closer to the meeting. Registration Link: us02web.zoom.us/meeting/register/.
The AGM is open to members of the UTMSU. General members are individuals currently enrolled in a minimum of 0.5 credits at the University of Toronto Mississauga Campus in an undergraduate degree program.
Student Verification is required to attend this meeting. All students and media must sign in to the UTMSU Annual General Meeting on Monday, November 16 from at 5:30 p.m. for verification.
For more information visit utmsu.ca/annual-general-meeting/.
The UTMSU is committed to creating accessible and inclusive spaces for all of our members. If you require any accommodations to ensure your full participation in this event, please contact vpinternal@utmsu.ca. Accessibility services can be made available if requested by Tuesday, November 10.
If you are unable to attend the meeting and would like to proxy your vote to a student that you know is attending the meeting, please follow the link below to submit a Proxy Submission Form. Once received, the Internal Coordinator will contact you via email with the confirmation. Please note: If providing a proxy, do so to someone you know and trust with your vote.
Questions may be directed to: Mitra Yakubi - President (president@utmsu.ca) or Fahad Dayala - Vice President Internal & Services (vpinternal@utmsu.ca).
* Please note that "University of Toronto Mississauga Students' Union" and/or "UTMSU" refers to the Erindale College Student Union, Inc. ("ECSU").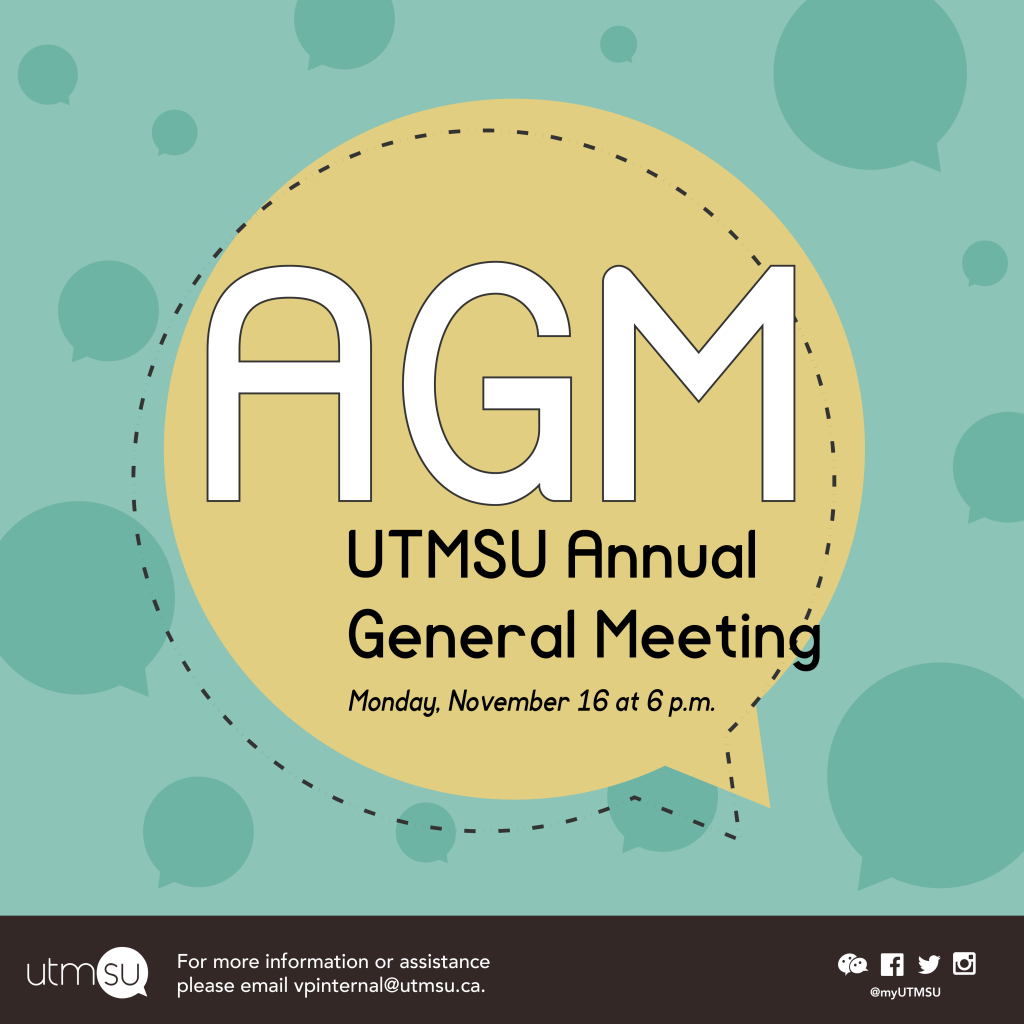 ---
---
Annual General Meeting 2020 Documents:
Annual General Meeting Report:
Annual General Meeting 2020 Financial Documents: