About us
UTM Students' Union
The University of Toronto Mississauga Students' Union (UTMSU) represents over 14,000 students across the University of Toronto Mississauga Campus.
We endeavour to ensure that the rights of all students are respected, provide cost-saving services, programs and events, and represent the voices of part-time undergraduate students across the University and to all levels of government.
Info Booth
The InfoBooth is your one-stop destination to get access to all the services provided by UTMSU.…
VIEW DETAILS
Our Services
UTMSU aims to provide its members with cost-saving services in addition to our work on advocating for lower tuition fees, affordable transit and childcare to help save you money.
Our Campaigns
We take our lead from you! As your student's union, UTMSU is dependent on your input to develop campaigns, events and services.
Students are the ones responsible for ensuring that UTMSU stays relevant and reflects the social, economic and political interest of students, while improving overall student life at the University of Toronto.
VIEW DETAILS
Upcoming Events
We aim to build a community for all UTMSU members through events and programming.
ALL EVENTS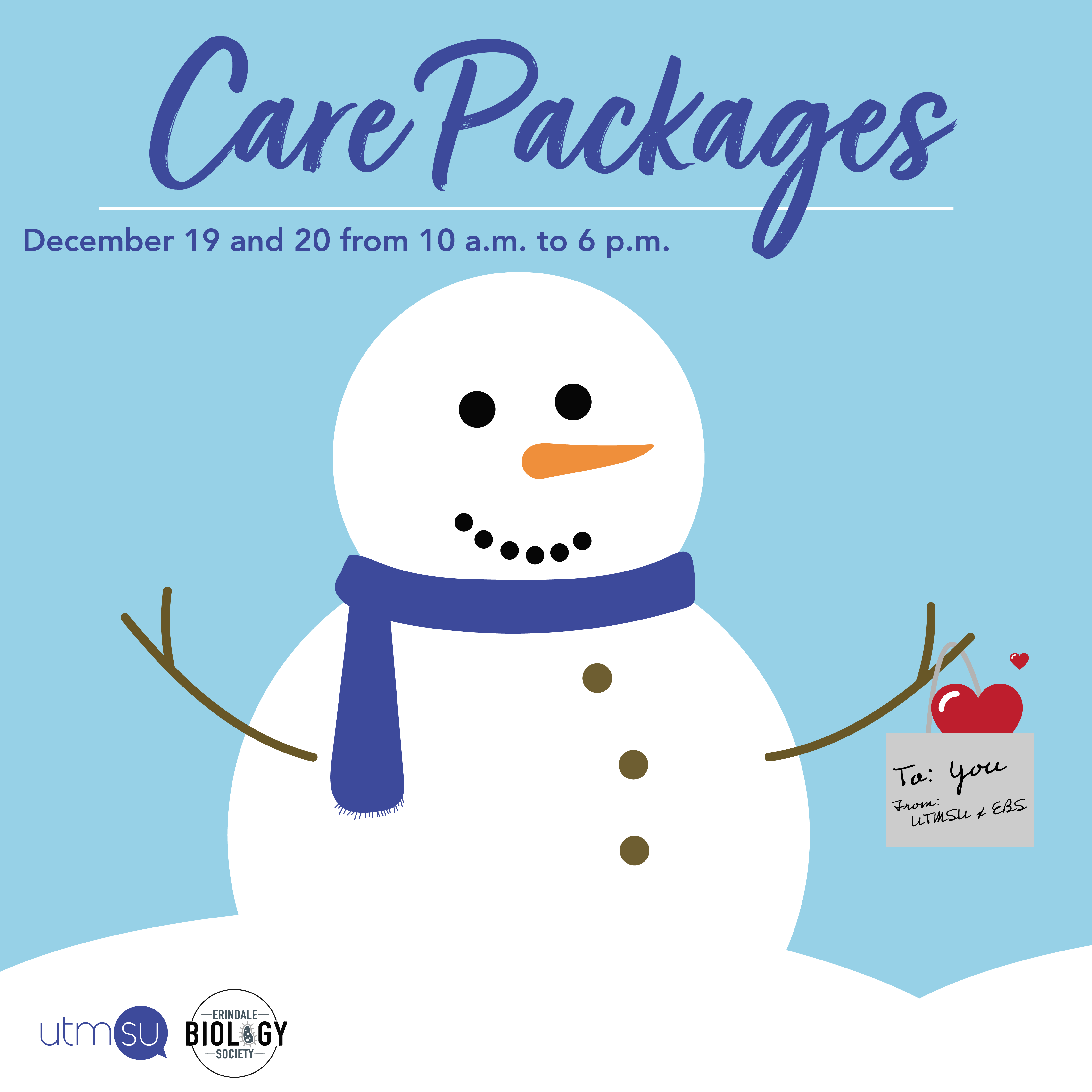 Care Packages
You asked we delivered – as per popular demand, the UTMSU Care Packages are back! This time Holiday Edition in partnership with Erindale Biology Society (EBS).
We know the pandemic has been extremely difficult for folks but we wanted to remind y'all that your UTMSU is here to support you. We have collaborated with EBS and will be delivering Holiday Packages filled with goodies to our students on a first come first serve basis. If you're interested please fill out the necessary information below and hope to see y'all really soon.
The dates of Delivery will be as followed:
December 19th: 10-6 pm
December 20th: 10-6 pm
Apply here: https://linktr.ee/myutmsu/
Deadline to apply: December/11/2020.
With love,
UTMSU & EBS Executives
Date
Dec 19 - Dec 20, 2020
Timing
10:00 am - 6:00 pm
Location
Deliveries need registration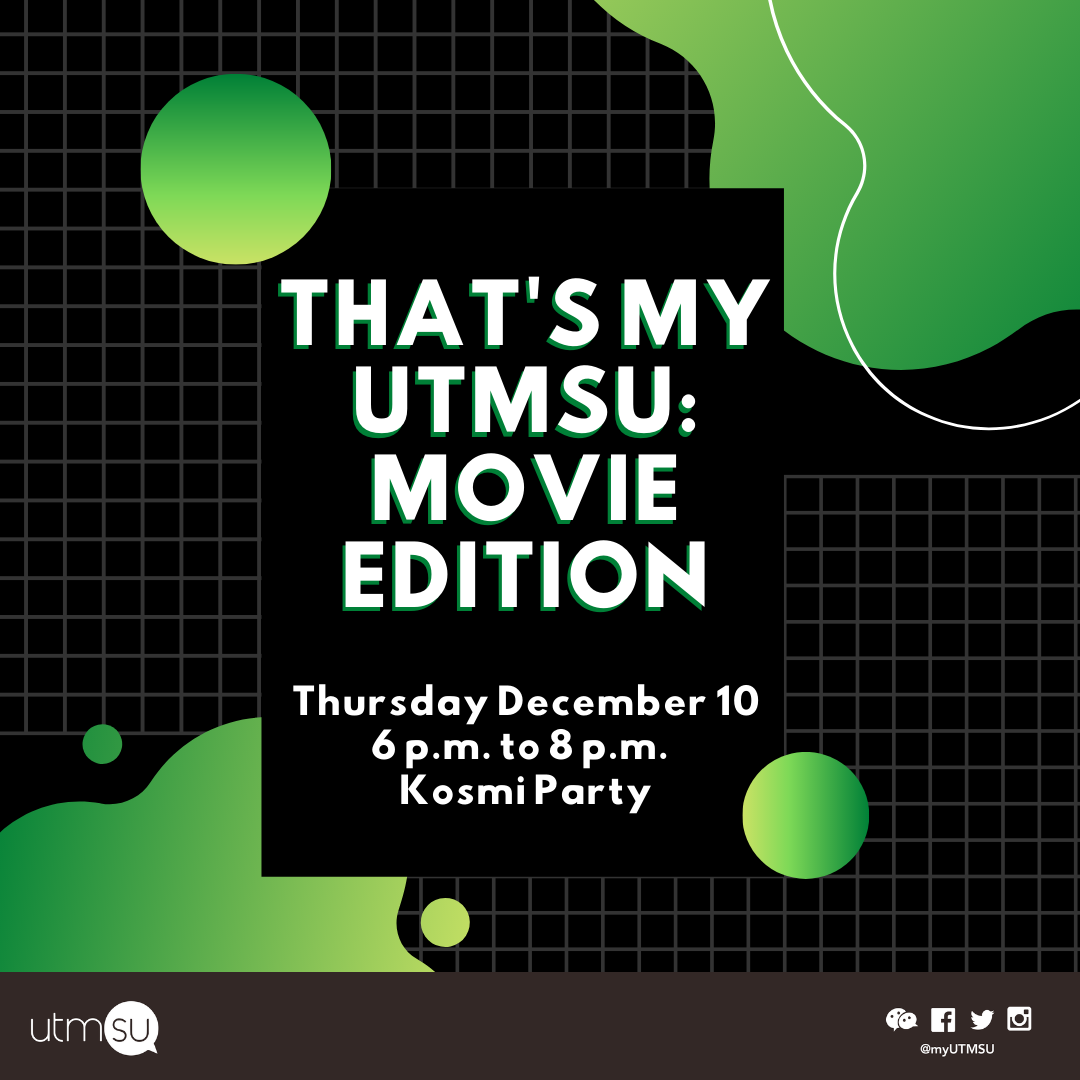 Movie Night
Exam season can really leave you feeling like the Grinch, that is why we will be hosting a holiday pyjama party, where we can welcome the holiday season together! We will be watching How The Grinch Stole Christmas! Join us on December 10 from 6-8 p.m. on Kosmi, fill out the Google form to register: https://docs.google.com/forms/
Do you have a question? Email vpcampuslife@utmsu.ca.
Date
Dec 10 - Dec 10, 2020
Ed4All Town hall
Join us on November 30 from 5 to 7 p.m. for the Education for All Town Hall. This is an opportunity for students to learn more about the Education for All Campaign including the progress made thus far. The Town hall will have three speakers who will reflect on post-secondary education, the barriers students face and discuss how we can move towards more accessible education for all. This is a space for students to share their personal experiences, give feedback and get involved. Register here: https://linktr.ee/myutmsu/
Date
Nov 30 - Nov 30, 2020